I would like to dedicate this page to a wonderful
mother, woman, cook, professional, and friend...
my mother... Judy Roberson.
On August 2, 2000, she left this Earth and I miss her very much!!
I LOVE YOU MOM!!!!
"A person is born twice in life... first at birth and again when his mother dies." ~ Rufus Wainwright
---
June, 2014 - Mr. Roberson was honored to stand with his father (Paul, Jr.) as the best man at his wedding. The ceremony was held in the front yard of our family farm in Bethpage, TN.

Dad married one of the greatest women around!
Jacqueline - We are blessed to have you in our family!!
---
THE LIFE OF MR. ROBERSON... A BRIEF STORY

Al Roberson was born the summer of 1972 and raised surrounded by the rolling hills of northern Middle Tennessee (in Sumner County). His parents (Paul Jr. & Judy) were high school sweethearts and were raised in the same community all their lives also.

Such a cute baby!

Mr. Roberson lived on a 250 acre farm near most of his immediate family - in Bethpage, TN. His maternal grandparents (Lum & Love) lived on the farm next door, while his paternal grandparents (Paul Sr. & Mildred) were a few miles away. On the farm, he raised cows, sheep, pigs, chickens, dogs, and a whole bunch of barn cats. His parents also loved to garden and always grew a bounty of vegetables to eat, preserve, and some to show off at the county fair each summer. When he entered 4th grade, Mr. Roberson joined the Tennessee 4-H Program. In 4-H, Mr. Roberson showed off his animals (especially the sheep), made a bunch of life-long friends, and gained valuable leadership skills that he uses today.
I was such a dork!

My grandfathers (Paul Sr. & Lum) and my prize sheep (Connie)...
check out the hair and those legs!!

Kindergarten (I think...)

2nd grade (I think...)

Look at that Nashville Sounds t-shirt!

7th grade (for sure)
Throughout high school, Mr. Roberson continued his involvment in 4-H and broadened his interests in the arts. Did you know Mr. Roberson is actually a talented singer (a tenor)? Although his students don't really enjoy it when he sings, he was a member of the Tennessee All-State Choir (for three years) and attended the Tennessee Governor's School for the Performing Arts during his junior year (11th grade). He also played the clarinet and led the band as field commander his senior (12th grade) year.

In 1990, Mr. Roberson graduated from Gallatin High School (where his parents also attended). That same year, he was awarded TWO national honors - becoming a dual National 4-H Project Award Winner (in the Agricultural project and Wildlife & Fisheries project).

Class of 1990... Do you think I could get my bow tie straight?
| | |
| --- | --- |
| Junior Prom | Senior Prom |
My best fraternity buddies...
Jamie & Gerry

Me being silly...

Don't say a thing...
I was fat & had horrible facial hair!
In the fall of 1996, Mr. Roberson got his first teaching job with the Cobb County School District in Georgia (near Atlanta). After that year, he returned to Tennessee to be with his mother (who was in poor health). He continued to teach with the Sumner County Schools and started working on his graduate degree at Middle Tennessee State University in Murfreesboro. In 2003, Mr. Roberson graduated from MTSU with a Master's in Education - majoring in Higher Education Administration and Supervision.
After a career diversion at Tennessee Tech University in Cookeville - as a Residential Life Coordinator, Mr. Roberson returned to the K-12 classroom. The 2017/2018 school year marks his 22nd year teaching overall - 13th year with the Williamson County Schools. Over his professional career, he has rallied as a Dolphin, Green Wave, Gator, Blue Devil, Yellow Jacket, Awesome Eagle, Hornet, Lizard, Wildcat, and now a proud (returning) Hornet.
Ok... it's not mine...
Anyone have some extra $$$ for a worthy teacher?
Mr. Roberson loves to travel, go camping, cook, and spend time with family and friends. He has traveled throughtout the United States (see the map below), but not a lot internationally - only visiting Mexico and Canada. He would love to visit Europe, Asia, Australia, South America, and Central America. If you are planning a trip... consider taking along a teacher!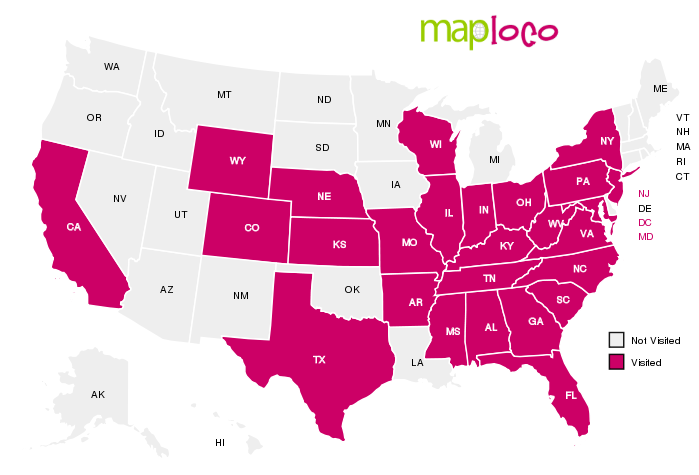 Create Your Own Visited States Map
| | |
| --- | --- |
| On vacation in Florida... summer 2004 | Summer 2010 visit to South Carolina - the Atlantic Ocean |
Mr. Roberson (second from the left)... President & Mrs. Carter (in the center)
My friends and I love to take long vacations...
we went to Washington, DC in 2013 (above) and Savannah, GA in 2014 (below).

We also love day trips to great places all over the area.

Above is the church located in historic Mooresville, Alabama.
Every year, they have a tour of homes (around Christmas) that I recommend. Check out the link for the date and MAKE RESERVATIONS before you go!!

Below is a visit to the campus at Sewanee - The University of the South. This is a beautiful campus and worth a trip.

Check out the Sunday brunch at the Sewanee Inn... MAKE A RESERVATION before you go!!
Many students who meet Mr. Roberson for the first time are frightened by his "evil look" and "baldness". Once you get-to-know him, you will find out he is nothing but a "big-ole teddy bear"... full of stuffing and love for everyone!!
| | |
| --- | --- |
| Mr. Roberson... the "bow-head" | |
He watches a lot of television and movies!! His favorite channels are the Food Network, the History Channel, and Syfy. Do you think he is a nerd? Maybe...
Over four years ago he "cut-the-cable" to save a little money and discovered Netflix, Hulu Plus, and Amazon Prime - which have caused some sleepless nights binge-watching shows. He is a bit of a nerd when it comes to television shows and movies... favorites being Star Wars, Star Trek, Game of Thrones, and House of Cards. He loves science fiction and political dramas!!
Mr. Roberson has a enormous passion for technology. He is a huge Apple fan and loves his iPhone, iMac, iPads (he has three of them), and Apple TV. He also loves iTunes and exploring new apps. He has over 300 in his collection and will share some of the best with his students throughout the year. Below are several pictures that were modified or created with apps and many simply funny photos... ENJOY!
| | |
| --- | --- |
| | |
| | |
| --- | --- |
| | |
| | |
I love to let my hair grow over the summer into the fall... LOL!

Do you think it is real?
I think of myself as a "Super Teacher"!

Moooove over everyone... here I come!!
Few people know that I am truly a ginger... really!!

Get bored in the summer?
Take some of your Lego figures on a vacation. Here is Luke and Hans visiting the TN State Capitol Building.


It's called "Legography" -
inspired by a man from the UK named Andrew Whyte.
This is my youthful "South Park self" image... note the hair!

There are times when Mr. Roberson will let his students have-a-go at improving his looks. "Mr. Roberson the Pharaoh" (seen below) was drawn by one of his 6th grade students in December 2006. This was actually part of a project all of his middle school students will do each year.
---
Did you also know?
Mr. Roberson collects LEGO mini-figures... he has over 100 so far. He uses these for his "legography" hobby. He also collects Presidential Bobbleheads... here is a list of his current collection (as of August, 2017).
President Andrew Jackson
President Ulysses S. Grant
President Theodore Roosevelt
President Dwight D. Eisenhower
President John F. Kennedy
President Jimmy Carter
President Ronald Reagan
President George H.W. Bush
President George W. Bush
President Barack Obama
President Donald Trump

Pictured here - I just bought my President Jimmy Carter
bobblehead in his hometown - Plains, Georgia.

Yes... I do have one of myself.

Check out others on Bobbleheads.com